Druckversion
With a fresh breeze – we warm up for G20!
Vorbereitungskreis Aktionskonferenz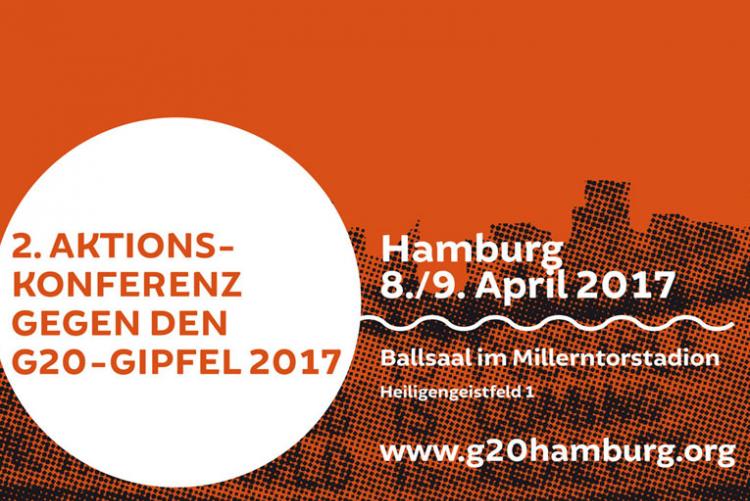 From Hamburg to Munich, from Barcelona to Athens, from Toronto to Sydney activists prepare themselves for the protests against the G20-summit – for a whole week before the summit, Hamburg will be the location for manifold protests. Together we are going to pinpoint the limitations of power of the statesmen and -women in our city. We are going to present our solidary alternatives to their murderous, capitalist politics of disintegration that lead to wars, to the devastation of natural environment and to million fold forced migration and global poverty. Worldwide we can observe reactionist and autocratic regimes and movements accelerating the deterioration of our everyday living conditions. We invite you all to our second action conference in Hamburg April 8/9 in Hamburg to substantiate our disobedient struggle against this destructive development.
Exploring new horizons – the second action conference in Hamburg on April 8/9 2017
The G20-summit is going to take place in Hamburg on July 7/8 2017. Wide protests are arising already: local plattforms emerge and alliances are formed on the national and international level. The planning so far: a "summit for global solidarity" (July 5/6), an evening demonstration (July 6), a day of action (July 7) that is going to disrupt the sequence of the summit severely, and lastly a huge international demonstration on Saturday (July 8). All the actions are going to be framed by a variety of protest camps in the urban area of Hamburg where activists from all over the world gather for their concerted efforts.
Manifold, multicoloured, and resistant – a retrospection of the first action conference
It all started in December 2016 when hundreds of activists met for the first time in Hamburg to begin with their preparations. In a plurality of working groups local protests for different urban districts where planned, feminist and youth groups specified their objections, raves and demonstrations at nighttime were schemed, and blockades of the summit and the harbor were substantiated. The Choreography of protests began to take shape. Let us be determined, let us be disobedient, and let us make clear: The self-proclaimed saviours of the world are not welcome – not at the G20-summit in Hamburg nor anywhere else!