Jul/04 16:00 - Jul/04 18:00
vor dem S-Bahn-Eingang Harburg Rathaus (Harburger Rathausstraße)
Submitted by

# (not verified)

on Mon, 03/07/2017 - 19:02
Reclaim the world - für grenzenlose Solidariät statt G20!
Tuesday, 4. July 2017 -

18:00

to

20:00
vor dem S-Bahn-Eingang Harburg Rathaus (Harburger Rathausstraße)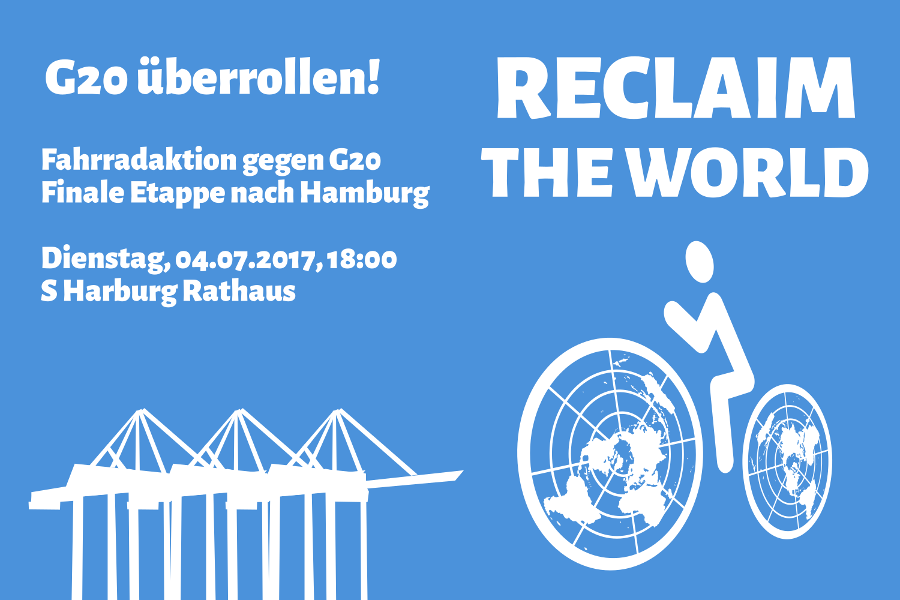 Nach fast zwei Wochen ist die Fahrradstaffel »G20 überrollen!« gegen den G20-Gipfel und für eine global gerechte, zukunftsfähige und solidarische Welt fast am Ziel.
Vom Hambacher Forst durchs Ruhrgebiet, über ein Soli-Protestcamp in Münster und mit kreativen Aktionen in Städten wie Hannover wurden viele Menschen auf das Thema G20 aufmerksam gemacht, wurden Leute für die Proteste mobilisiert und wurden Alternativen zur kapitalistischen Konsumlogik gelebt.
Jetzt brauchen wir euch, denn die letzte Etappe soll möglichst bunt, groß und sichtbar werden.